| | |
| --- | --- |
| | GLMC Double Down - 2014 |
---
Glacial Lakes Motorcycle Club (GLMC) Double Down Grand Tour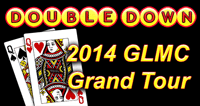 The Basics
The 2014 Grand Tour will run from April 1st - September 30th, 2014.
You will be looking for town names that have consecutive duplicate letters anywhere in the name but not "LL"
In each town, take a picture of your bike, your rally towel, and something that has the town name on it. No post office or green city limits signs.
A change for this year, city limits signs that the locals put up WILL count, however I expect them to have character. Green signs that the state puts up will still NOT count.
Each set of consecutive letters will count for 1 point. So Appleton is worth 1 point, Babbitt is worth 2 points, Loogootee is worth 3 points, etc. A space between letters will NOT count, but if there is another set of doubles in the name they will count, i.e. Donnelly = 1 point, Cromwell = 0 points.
To be considered a finisher you must accumulate 25 points. You will then earn a Grand Tour shirt and entry into the first prize drawing (additional prize drawings for higher point levels).

Click on thumbnails to see larger images.
53 towns, 57 points
---
© 2014 Randy Bishop
Last modified: September 15, 2014