| | |
| --- | --- |
| | GLMC Talk Like a Pirate - 2015 |
---
Glacial Lakes Motorcycle Club (GLMC) Talk Like a Pirate Grand Tour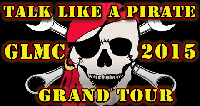 The Basics
The 2015 Grand Tour will run from April 1st - September 30th, 2015.
You will be looking for town names that have the pirate phrases: "AR", "AYE", "AHOY", or "AVAST" in the town name.
In each town, take a picture of your bike, your rally towel, and something that has the town name on it. No post office or green city limits signs.
City limits signs that the locals put up WILL count, however I expect them to have character. Green signs that the state puts up will still NOT count.
Each phrase will count for 1 point. So Sartell is worth 1 point, Harvard is worth 2 points, etc. A space between letters will NOT count.
To be considered a finisher you must accumulate 25 points. You will then earn a Grand Tour shirt and entry into the first prize drawing (additional prize drawings for higher point levels).

Click on thumbnails to see larger images.
32 towns, 32 points
---
© 2015 Randy Bishop
Last modified: August 22, 2015